Education
SEEDLINGS FOR SCHOOLS
| | | | | |
| --- | --- | --- | --- | --- |
| | 2017 | 2018 | 2019 | Difference |
| Schools Participating | 482 | 843 | 837 | -6 |
| Students Participating | 95,500 | 160,276 | 164,939 | 4,663 |
| Seedlings Shipped | 98,800 | 164,075 | 167,650 | 3,575 |
| Pollinator Garden Pkgs Distributed | 0 | 0 | 67 | 67 |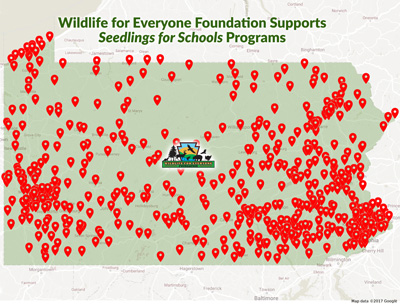 Thank you to our sponsors
EQT Foundation
The Pittsburgh Foundation
The Donald B. and Dorothy L. Stabler Foundation
FirstEnergy Foundation

The Seedlings for Schools and new Pollinator Garden programs hit new heights in 2019. Statewide, the number of students participating in the seedlings program reached just shy of 165,000, an increase over last year. The biggest surprise was the overwhelming response to the new Pollinator Garden program! Orders for pollinator garden bundles, consisting of 25 pollinator-friendly trees and shrubs, topped off at 67. Offered to Pennsylvania Schools on a limited basis, pollinator garden plants were depleted on the first day that orders were accepted! Howard Nursery, an entity of the Pennsylvania Game Commission, acted quickly, pulling plants from their private-sale stock to ensure pollinator garden bundles were available to all schools that wanted them. Through this program, student participants were educated about the declining pollinator problem, the types of plants that attract various kinds of insects and how to construct an effective garden.
Plans are underway to expand the pollinator garden program to meet demand in 2020. Additional funding is needed. Please make a donation. Visit www.wildlifeforeveryone.org/makeadonation or call 814-238-8138. With your help, we will create a more environmentally conscious generation that will positively impact the future of our world.
* The Foundation for California University of Pennsylvania awarded a grant to US Fish and Wildlife Services to help fund 5,000 seed packets and pollinator brochures that were distributed to Pennsylvania students participating in the Seedlings for Schools and Pollinator Garden programs administered by the Pennsylvania Game Commission in 2019.
---
Wildlife For Everyone Foundation is a 501(c)3 nonprofit Foundation. More information about the foundation's education program can be found by contacting them at:

info@wildlifeforeveryone.org
814-238-8138.